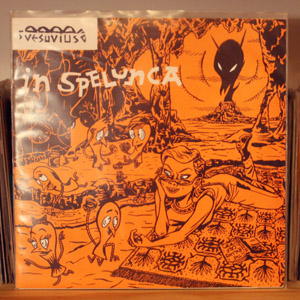 If I was from Glasgow I'd be able to tell you how the Vesuvius label fits into a great musical culture of the city, stretching back many years. However, I'm not, so I can't. But I do know that it does. This was their first release, a proper indie job with photocopied insert, hand-stamped labels and no concessions to The Industry. To be honest the musical quality is variable, but it's more that this represents the ability of people to release records on their own terms that makes me like this kind of thing. Plus, the 10″ format is always a delight.
On here we've got Melody Dog, Manxish Boys, Sally Skull, Hello Skinny, Lung Leg, Cotton Gum, The Yummy Fur and Starstruck. Not particularly a list of legendary names, I'll grant you – except for The Yummy Fur of course, members of whom went on to form Franz Ferdinand and blah blah blah. Anybody who was deeply entrenched in the mail-order-driven world of indie-pop in the mid-90s will probably recognise the names, as they graced many an A6 flyer for a fanzine or a record that would get stuffed into an envelope before sending out, er, a fanzine or a record. Happy pre-internet days.
Once when visiting my friend Marceline in Glasgow we were wandering through town and she pointed out to me a doorway that apparently led to the organisation run by Pat who used to run Vesuvius. You know what though? I've no recollection of what that organisation is. And I'm not being enigmatic, I've just got a rubbish memory.