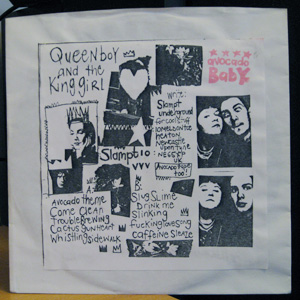 Good old Slampt, possibly one the UK labels closest to the ideals and dynamics of those legendarily inclusive US independents like K, Kill Rock Stars, Dischord and so on. I was led into their world through my tangential involvement in Riot Grrl; moving quickly from receiving a mixtape from a friend containing a Huggy Bear track, to buying Huggy Bear's first 7″, to having my mind blown by the sheer weight of positivity and creativity that existed at a grass roots level within a 'movement' that was very quickly derided and sneered at by fools and people that couldn't grasp the concept of not being involved purely for fame and/or fortune. Phew.
I wrote a lot of letters to and from Slampt's Rachel and Pete, and still have a lot of the records, tapes and fanzines that they released over the years. The fanzines always looked great, and the crowning glory of Slampt was Fast Connection, a short-lived but grandly-envisaged dossier of reviews, opinions and comment covering a scene that had grown up around their label and many others. The magazine laid the way for longer-standing publications like Plan B and Loose Lips Sink Ships, and so a lot of people owe it a lot, whether they realise it or not!
Avocado Baby was the Slampt in-house band, playing ramshackle-as-you-like indie-pop with an arched eyebrow and a subtly-hinted threat of violence. Great packaging on this record – photocopied hand-stamped sleeve with (on the back) a page torn from a recipe book pasted on. In small writing on the front it states 'Avocado tape too!', and indeed I still have that tape – A Million And Nine – and remember it fondly for its sheer lo-lo-lo-lo-fi quality. My copy was marred by a quarter being plagued with a strange tweeting noise over some tracks: such are the hazards of magnetic tape, I guess.