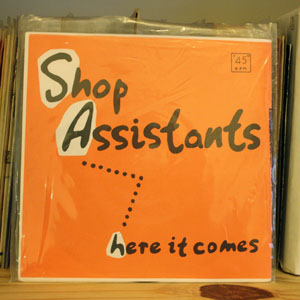 Can't remember where or when I bought this record, but I do know that it was some second-hand record shop where I got excited about stumbling across it – along with another Shoppies single 'Big E Power' – not only 'cos I like the band but also 'cos the sleeve is sooo much the perfect instance of indie pop packaging. Fold-over sleeve, two-colour printing, crappy quality, it's got it all. And – joy of joys – it even includes a free flexidisc! This kind of magic just doesn't happen any more. Hell, the sleeve even states 'Thanks to Stephen Pastel'!
The Shop Assistants were a great band, emerging from the mid-80s C86/indie-pop scene with all the requisite items in place. Jangly, fuzzed guitars? Check. Soft, slightly off-tune female vocals? Check. They represent a time before indie-pop grew up, and when 'indie' meant something rather than a style of music. Avalanche Records was, I believe, a label that grew out of a record shop – and whilst I never visited the original Edinburgh store, I'm sure I've been to an Avalanche in Glasgow and presume that it's connected.  (However, this was in the late 1990s and therefore the store was rather more CD-focussed than I'd prefer…)
My tip for playing flexidiscs: place a 10p piece on either side of the central spindle hole. This'll stop it flapping about and/or slipping around on the turntable. I've been doing this for so long now that my 10ps are the old-fashioned, larger ones that are now out of circulation! Happy days.