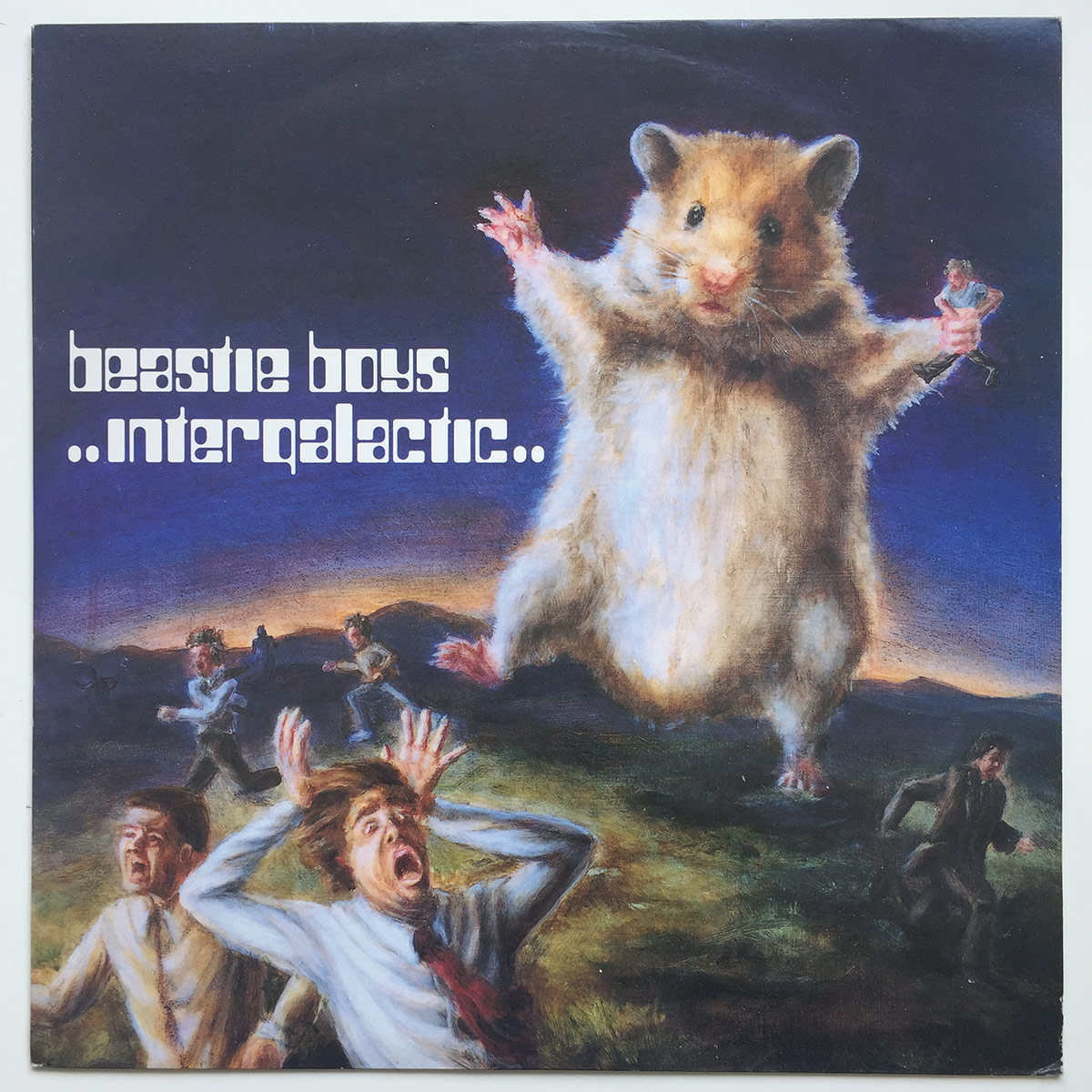 Bought this shortly after the height of my indie disco-visiting days (Sunday night at the Nue Valbonne in Reading was the place to be, you know…), during which time Beastie Boys' 'Sabotage' was a prime floor-filler (along with 'I Am The Resurrection', 'Cannonball', 'The Only One I Know' and so on). I can't remember exactly where I bought it, but it's likely that it was from HMV Reading – remember, there was a time when record shops sold records, and that record shops actually existed on the high street.
'Intergalactic' had a very cool, very silly video:
…and this 12″ release of the track has differently cool, differently silly artwork. A giant hamster terrorising people? Why not. (The rear sleeve shows the same hamster chewing apart some telegraph wires).
The art direction is by Cey Adams, who has lots of nice work available to see here. The design credit goes to Bill McMullen, who also worked on other Beastie Boys releases at the time, as well as work for Luscious Jackson, who released records through Grand Royal (the label owned and run by Beastie Boys). The paintings used on the cover are by Debra Simon, according to the sleeve, but the internet yields little information about her.
The typeface used looks like Countdown, but not exactly so – perhaps it was Countdown, but messed with by the designer? Looks like some counters were moved around a little.
The Beastie Boys were famed for their bold use of samples, in particular on their grand epic Paul's Boutique – on this release, samples are sourced from Rachmaninoff's 'Prelude C# Minor', as adapted by easy listening/exotica type Les Baxter! It's a great tune, backed up on this 12″ by a variety of remixes and even an a capella version. But it's still no 'Sabotage'. Not much is.