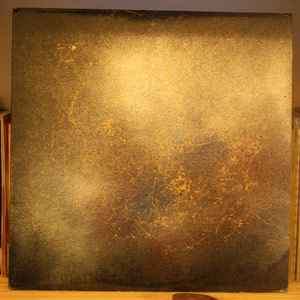 I bought this album in the Record & Tape Exchange in Notting Hill – there have been many happy hours spent in their basement in the past, rummaging through countless cut-price records I never realised I wanted to own. Confusingly and/or embarrasingly, I bought this under the confused notion that Rake used to feature Jack Rose. I've since confirmed to myself that I should, in fact, have been thinking of Pelt – very similar name, you see. Or at least, they've both got four letters. Still, this album was released by VHF, which is generally a sign that it's going to be a good 'un.
The moody, hand-sprayed sleeve contains an enigmatic-looking record (not much in the way of information beyond track titles) and a VHF insert. Do you keep inserts like this that you get in records? If not, you should – come back to them after a decade or more and they're fascinating.
Oh, and the music? Well, Rake are something of a cross between Faust, Sonic Youth and Hovercraft – all feedbacking guitars, semi-music-concrete noises and a commendable disregard for convention. What at first sounds like relatively straightforward noisy guitar rock quickly descends into abstract mayhem. The insert here reminds me that Rake were VHF labelmates with Flying Saucer Attack, and that makes sense in that they're like that band's older, more rock-influenced/drug-damaged brother.