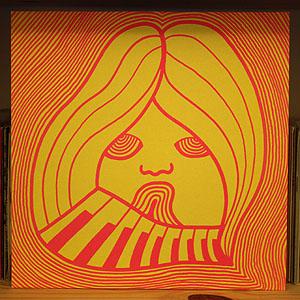 Strange record to start on, this – it's a weirdy free noise-type album that I bought on a whim. A while back I was signed up to the Volcanic Tongue e-mail list, meaning that I received weekly updates of new, odd and unknown records, that would be made attractive-sounding to me by the florid descriptions of their limited edition nature, special/hand-made/interesting artwork, exhortations of 'HIGHEST POSSIBLE RECOMMENDATION', and so on. Anything, in fact, other than the music, which in many of these cases was often a secondary (sometimes) pleasure. I've stopped getting these e-mails now, as they were becoming a dangerous and expensive habit, and leaving me with a lot of records than in reality I wasn't going to listen to more than once or twice.
Anyway, Can't – what or who is that? It's Jessica Rylan, according to the liner notes on the insert popped into the day-glo silkscreened sleeve that houses this record. And, hey, the liner notes are written by everybody's favourite hipster-nonsense-talker Thurston Moore, which is a yet further reason I bought this – I'm sure my Sonic Youth obsessions will become clear here as time goes by.
(Not sure how tragic it is, buying stuff on the basis of any number of factors except the actual sound/music contained within. Is it just me that does that?)
As so often happened with these Volcanic Tongue purchases, the music on the record is pretty weird and, to many ears, ridiculous. Abstract, scratchy fluttering sounds that are pretty damned far away from traditional songwriting. I have issues with this kind of music at times: for every day I think 'fair enough, art as music, do what you will, it's an interesting listening experience', I have another that I think 'pff, this is just pissing about, it's just making sounds with no quality control or real intellectual basis for doing so'. Can't say I like this, but I'm glad I've heard it. I'm not sure why, but I am. And the sleeve is a delight.