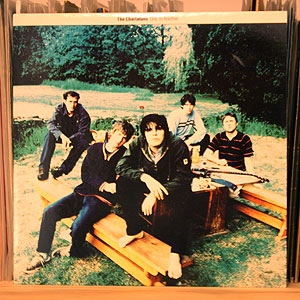 Ah, happy mid-90s Britpop times, I was at university, enjoying life, swaggering about wearing a charity shop Adidas tracksuit top and a pair of Puma States, smoking fags inside and getting caught up in the post-Oasis-going-big revelry that – deny it if you will – was genuinely exciting and fun. I think that the Charlatans were at their peak at that time, having matured from their early, brilliant Hammond-infused incarnation into a groovy, danceable band that totally exuded confidence and warmth. Tim Burgess was looking particularly cool in photos around this time, too.
I saw the Charlatans play a couple of times; one that springs to mind was at the Rivermead Centre in Reading, in a basketball-court-turned-venue that was, the same night, the happy coincidental time of a surprise meet-up with my old pal Colin, who had popped over from Worcester for the night to see the band. Always good to see him, and it's been a long time now since I did. I was with my sister, if memory serves correctly; we weren't often at the same gig but she loved the Charlatans too (and, indeed, introduced me to them through her own listening habits a few years beforehand).
Peter Hook's super-dull outfit Monaco were support at the show, and amusingly drove around 75% of the crowd out of the room and into the bar for the duration of their set. Yes yes, he was in Joy Division and is therefore an untouchable, but my word Monaco weren't good. It was a pleasure to see that he did indeed wear his bass guitar as low to the ground as legend has it, however.
Not sure why Tim Burgess has no shoes or socks on on the cover of this record. He has big feet that look like they'd whiff a bit. Is that rock and roll, '96 style? I just can't remember.