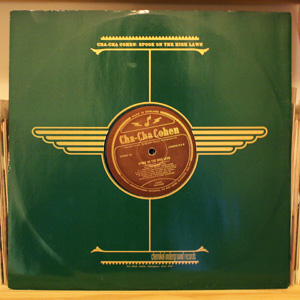 Back in the early-to-mid nineties I used to write a fanzine called Circle Sky, named after the marvellous, wonderful Monkees song featured on their Head soundtrack. The Head soundtrack as mentioned in the Pooh Sticks' 'On Tape'. A variety of record labels and PR companies used to send me records, tapes and CDs to review. One of the best labels that ever sent me stuff was Hemiola, based in Leeds. One of their releases was a 7″ by Cha-Cha Cohen, which came in a cool foil-wrapped sleeve. At a similar time, Chemikal Underground was finding its feet as a label and had released a variety of great records by bands like Bis and The Delgados. So, imagine my joy in hearing that Chemikal Underground were putting out a Cha-Cha Cohen record!
One mail-based financial transaction later (Paypal was just a flighty dream back in these times), here was my new purchase in its stylish-looking sleeve. In those days, buying a 12″ was something of a challenge for me, so deeply was I mired in the world of indie-pop 7″ records and tapes. A 12″ was – to my younger self – almost to real, too conventional a format for music, and at more than a couple of quid, outside my usual spending range for a slice of music. But this one was an exception and, obviously, a small educational step towards not having such completely flawed, pointless views on music carrier formats.
Wikipedia tells me that Cha-Cha Cohen were formed by three members of the Wedding Present. I'm not doubting this, or suggesting that Wikipedia is incorrect (heaven forfend!) but this is news to me, and was never part of the scant information that was available about the band back in the '90s. For some reason, I was always convinced that they were from New York. Who knows. Listening to the record back now, they do still sound more New York than Leeds – it's all loping rhythms and slinky, sly vocals, sounding almost like a proto-Clinic. 'Spook On The High Lawn' has dated well and is actually a bloody great song, and the weird, excellent remixes on here (by Hood and Sasha Frere-Jones, aka Ui) do nothing but add value. It's been a pleasure and a small revelation to listen to this again after over a decade.