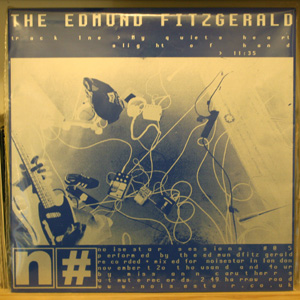 Ah, 2004, just a few short years ago. The Edmund Fitzgerald were putting out records on little labels like this one and Vacuous Pop. Who'd have thought at the time that some of them would go on to form Foals, who stormed the world of music through 2008 to become proper famous music stars? Oxford lads done good, bringing awkward post-rock disco music to the masses, etc etc etc.
I prefer The Ed Fitz – as those of us in the know refer to them, 'cos we're ultracool – to Foals. They may well have sipped from a thoroughly over-sipped fount of angular music along with roughly one trillion other outfits of the time, but they always did it very well, injecting not only a sense of epic scale to their music but also ratcheting up the complexity meter by several degrees, with some of the most ridiculously intricate inter-woven guitar lines ever committed to vinyl. What was most impressive for me was the fresh-faced youth of the band, who were all about sixteen or so when they first started playing shows. I put them on at the music festival that I co-run in 2003, and remember the humble politeness of their lead singer as he nervously approached me at a gig beforehand to ask if they could get involved. That guy has now been all over the place; on Never Mind The Buzzcocks, on the front of the NME, all over MTV, etc etc. I guess maybe he's now had that humble politeness toured and interviewed out of him…
Bilge Pump were going to play the festival one year in the past too, but in the end they didn't – I can't remember if they pulled out or if our negotiations were rubbish or if they couldn't make it, or what. I've seen them a few times since then and they're a cool band with a penchant for setting up their equipment in front of the stage – all very trite in today's world of Lightning Bolt and hundreds of other hip cutting-edge bands, but I'm sure that they were doing it first. Maybe.
Oh, and this record? It's on very pleasant clear blue vinyl. And who knows, now that Foals are famous perhaps it's worth hundreds of pounds? Tough luck eBayers, I'm hanging on to it…