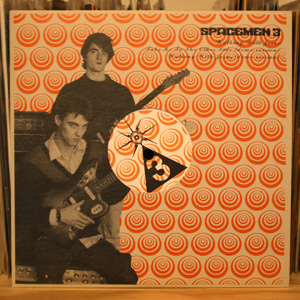 I was going to say how this record was part of the short-lived 'Earworm Gold' series, launched after the demise of the Earworm label proper, but a bit of internet research points out to me that the series was made up in fact of a whole ten releases, all of which I own. My memory surprises me at times in its sheer ineptitude and unhelpfulness.
Great sleeve on this one, it's printed two colour on nice rough card, and houses some spectacularly coloured vinyl – clear gold, with flecks and blurs of yellow and black within. Nothing less, of course, would suit the mighty Spacemen 3, who the keener amongst you will notice actually split up many years before the release of this record. What we have here, then, is demos, unreleased things, completist fodder. And there are a lot of Spacemen 3 completists out there, believe you me. (Speaking of which, anybody who'd like to offer me a copy of their 'Taking Drugs To Make Music To Take Drugs To' compilation, get in touch…)
I never tire of listening to the woozy, druggy sounds of Spacemen 3. I wasn't quite there at the time – I got into them in around 1990 or so. But even in the context of a musical lineage that they obviously slot into with grown-up hindsight (the blues, garage punk, psychedelia) they must have sounded pretty far out there in the shiny pop climate of the mid 1980s. Not that they were ever pop, you understand, but things were simpler back then. There just weren't as many bands around. Going off tangent, I've met Sonic Boom a couple of times over the past years, and he's either a drug-damaged psychic explorer of a man, or a bit rude. I'm inclined to think the latter, but listening to his records encourages me to forgive him his strange, shifty ways.