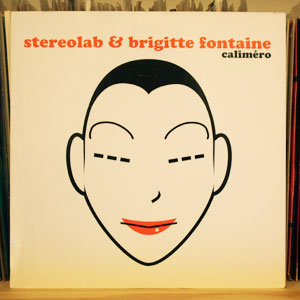 Not sure what year it was when this record came out, but I'd hazard a guess that it was something like '97 or '98 perhaps. Who knows. Does it matter? Is it important to place records in some kind of grand chronological schema? To me it is, dammit, I love the chronology. This followed that followed this followed that… and so on. It helps me to place the originality and lineage of records into a context, I guess.
Anyhoo, gorgeous white vinyl on this 7″. I really love opaque coloured vinyl a whole lot more than transparent; it tends to look just like you could take a bite right out of it. Like a big round, thin, vinyl cake. I'm not massively keen on the design of the sleeve here, I must admit, but I do like the typeface they've used – Cooper Black, is it? I think so. Duophonic Super 45s has always struck me as a slightly odd label – they tend to release this and that whenever they seem to feel like it, with no particularly fixed roster or 'plan' behind what they put out there. Not that that's a bad thing. Just a bit confusing at times.
Monade (as featured on the B-side, you can't tell this from the picture above) is something to do with Stereolab. I've a feeling it's Laetitia Sadier's other band. They're pretty similar, anyway – especially this-period Stereolab when they were in the height of their cutesy French pop-tinged phase. (At this point I feel compelled to whisper that I much, much prefer the more driving early work, as clichéd as it is to say such things…) I don't know who Brigitte Fontaine is.
As memory serves I purchased this record from the outstanding mail order service that is Norman Records. If you're any kind of music fan and not aware of them, find them online today and spend tons o' bucks with them. You won't regret it.