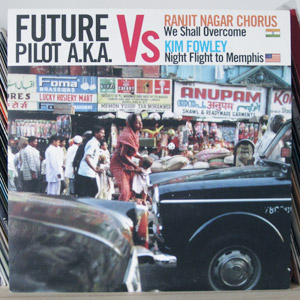 Future Pilot A.K.A. is Sushil K. Dade, one of The Soup Dragons and a sometime BMX Bandit too, if I'm correctly informed. I'm not so sure what the deal is behind this single and another 'Future Pilot A.K.A. vs…' 7″ that I've got, and how/why they came about, but this one is certainly an interesting meeting of minds. Ranjit Nagar Chorus are, I presume, an authentic group: hard to know, though, as the internet tells me nothing about them beyond the fact that they appear on this record. Kim Fowley is, of course, the insanely connected line drawn from 1960s punk through 1980s punk through 2000s reflection.
I picked this record up during a very brief period writing reviews for the University of Reading's in-house paper. The agreement was that the writers would regularly get together and dig through a box of submitted releases, picking whatever took our fancy. I grabbed this one quick as it ticked a couple of boxes for me – not only a Soup Dragons connection, but also Kim Fowley? It must be worth hearing… I never did review it, though. Shirking my reponsibilities.
Listening back now, I imagine that the reason I didn't review is that there's just not too much of consequence that can be said about it. The Ranjit Nagar Chorus side is an Indian-tinged indie dance tune in the vein of late-period Soup Dragons; the Kim Fowley side is a nicely hazy, echoed-up swirl of psychedelic navel-gazing. But neither really leap off of the turntable. 'It's all just so much fluff', as somebody said on an episode of Seinfeld once.
Great cover photo, though – evocative as you like.