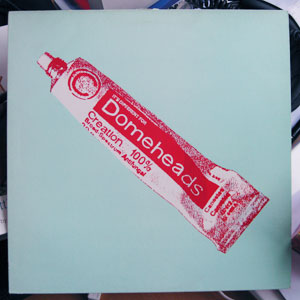 Creation Records don't half cop a lot of flak these days; mainly, I guess, as a side effect of bringing Oasis to the masses (I love them myself, but you can't sell that many records without a lot of people getting snarky), and also perhaps because of head man Alan McGee's increasingly out-of-touch, I-used-to-be-somebody ranting blog posts. Somehow it was easier to accept the latter when they were in the form of typewritten missive press releases from a guy in the post-punk era carving out a musical empire with blood, sweat, tears and drugs, but it doesn't wash so well when coming from the reformed elder gent, tapping away on his laptop, who seems to have relentlessly signed pure crap for the past decade or so.
However: he did bring us Creation Records throughout the 1980s and for the first half of the 1990s, and during this period this meant a hell of a lot of fine music finding its way into our lives. I can guarantee that if you're any kind of music fan, at least one record that you love was released by Creation or was somehow, something to do with McGee. And for that, it's hard to bear him any kind of grudge.
Different For Domeheads was one of several compilations that formed the majority of the early album-sized Creation releases. On here we've got The Loft, The Jasmine Minks, Primal Scream, The Pastels, Biff Bang Pow!, Slaughter Joe, The Bodines and The Weather Prophets. Not heard of more than a couple of them? You should have. It's a compilation like this that affirms early Creation releases as well worth the status of 'collect anything this label puts out'. It's also worth picking this and other similar-period releases up to remind yourself of just what faux-naïve indie pop kids Primal Scream once were. Who'd have predicted what they became and what they achieved?