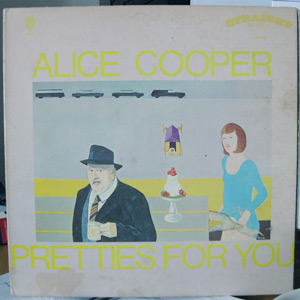 I bought this album very recently on eBay after reading about it in the rather excellent Shindig magazine. It's Alice Cooper's debut, from back when Alice Cooper was both the singer and the band's name, and it's waaay different to what you might expect from having heard his much better-known later work. This is straight-up psychedelic rock music – nothing like the later, heavier stuff that Alice Cooper released, although there are some hints in here – and it's brilliant. There's a lot of hair in this band, as made very clear in their photos inside the gatefold sleeve. The early seventies was a very hairy time. Alice Cooper were, for this album:
Alice Cooper: Vocals and harmonica
Neal Smith: Drums and vocals
Dennis Dunaway: Bass guitar and vocals
Glen Buxton: Lead guitar
Mike Bruce: Rhythm guitar, vocals, piano and organ
I wonder if they still keep in touch? Glen Buxton and Mike Bruce continued working with Alice Cooper for much of the following years, the other two seem to have pretty much disappeared. Here's a fact: Alice Cooper (the band) were initially called The Nazz, but changed their name after realising somebody else (Todd Rundgren) had already snagged the name. If you're wondering, the name comes from a Yardbirds song, 'The Nazz Are Blue'.
Strange cover for an album this, isn't it? It's a painting by a guy called Ed Beardsley. I wish that instead they'd used the photograph on the back, showing the skinny, hairy band in their finest pseudo-sci-fi gear, like they'd just wandered in off of the set of Flash Gordon.