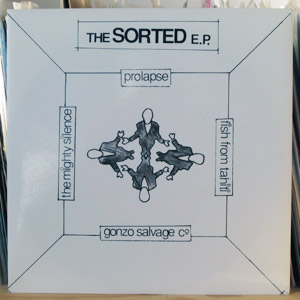 I picked up this 33rpm compilation 7″ in the mid-nineties because of the Prolapse track that's on here – a demo version of 'P.D.F.' that is, I believe, unavailable elsewhere. Not too sure of any details about the other three bands on here – Fish From Tahiti, Gonzo Salvage Co. and The Mighty Silence – although I seem to remember FFT popping up on a compilation tape that I purchased at around the same time. Maybe they were one of those 'compilation bands'; there were many of them. Bands that would always figure on compilations but never quite get around to releasing their own record. Compilations, tapes especially, would often be assembled from demo tracks, so I guess that the phenomenon of 'compilation bands' makes sense because of that.
As an aside, whilst 7″ records, and other similarly-sized records, generally fall beautifully into organisational logic, compilations are always something of a fly in the vinyl ointment. There are several ways that they can be catalogued, for example:
By compilation title. Fine for this example, not fine for others that have no titles
By artist. But which to choose? The first listed on the sleeve? Or the first to play on Side A?
By date of release. Logical, but impossible to search through
By colour. A beautiful concept, but sadly lacking in practicality
By quality of artwork. In the case of this example, it'd be at one end of the spectrum: I'll leave it up to you to decide which
By label. This often crosses over with the title – here, for example, we have 'The Sorted E.P.' from Sorted Records – but relies on remembering the label of a compilation at a glance, which can be trying
By no criteria whatsoever: throw them all in a pile and hope for the best.
My chosen method is a combination of (1), (2) and (7) above. It works for me.