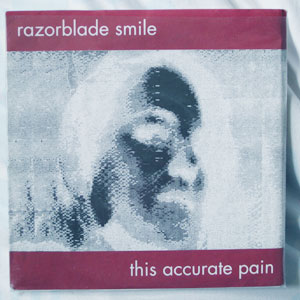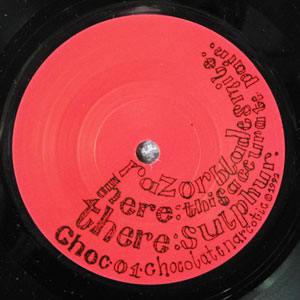 Another artefact from the mire of early-to-mid-nineties indie-pop that I got myself so deeply into: I'll never have enough seven inch singles in wraparound sleeves with photocopied inserts, even if the wraparound sleeve in this case sports a very unpleasant image that looks like it was printed out from an Atari ST with a low quality dot matrix printer. Which it very possibly was. More attention should be paid to the hand-done lettering on the record's label, which is lovely. I've included a photograph of the label so that you can bask in its glory.
As I recollect, Razorblade Smile was the band of Pete Dale, who'd later run the often inspiring Slampt record label and who still performs to this day as Milky Wimpshake. If any of those facts are incorrect, I apologise. I think it's him, though. There is some handwriting included on the photocopied insert design that looks very much like his – we used to write letters to eachother around the time of Slampt, and the handwriting style of him and a lot of other people is still deeply imprinted into my consciousness. (You don't get that kind of visual memory from an e-mail, do you?)
For fun, I'll type out the manifesto-esque prose from the insert, and leave it up to you to decide whether it's cringeworthy or passionate:
In a way there's two types of politics.

One is personal – your emotions, relationships, attitudes towards other people. For me, that's the level that this record is on. But there's another level – outside the pub door, outside the bedroom window, THEY make decisions that effect [sic] you, me and EVERYONE. If WE don't pay attention to what's going on then it's no wonder that decisions get made that favour the powerful and make life even more difficult for everyone else.

Knowledge is POWER.

If we know what politicians are up to and why it helps us control them. It takes effort for the people to control the politicians in an imperfect "democracy" like ours, but if you're not going to bother to try then how can you complain? So TRY.