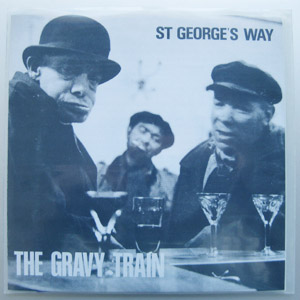 Now, this isn't a record from the hip edgy band The Gravy Train!!! [exclamation marks theirs, not mine] who have released stuff quite recently on Kill Rock Stars. No, this is the early-to-mid-nineties Newcastle-based (I think) indie-pop outfit, who don't have the exclamation marks but who have enough of a sense of Manic! Pop! Thrills! to not need them so explicitly stated. Despite the gritty kitchen sink drama/dour working men's club feel created by the photograph on the cover – anybody know where this photo is from, by the way? – The Gravy Train were chirpy and cheeky. Not full-on hairslides and crayons indie pop, but more part of a refined, melodic, straightforward style of music that was one of several strands that emerged from the post-C86 album underground, and continued to get on with things whilst the world went mad for 'indie' in the sense of Inspiral Carpets, Stone Roses and so on. Not that I have anything against Inspiral Carpets, Stone Roses and so on, you understand. But in the late 1980s those bands and their peers inadvertantly catapulted the word 'indie' into British mainstream consciousness and it very quickly lost all meaning, to become a term applied to musical style rather than any movement relating to independence, politics or art. Now, of course, we've got 'indie' bands on huge major labels, called 'indie' on the basis of holding a guitar and having a haircut*.
I wonder what happened to A Turntable Friend Records? They were a German-based label, operating out of a place called Duisburg, and they were responsible for – I think – around 25 releases; mostly 7″ records, and a couple of albums. I don't think that anything they released wasn't worth hearing. They also held up the much-loved habits of the indie pop record label – mono labels on the records featuring photocopied-looking imagery and Letraset-looking type, and photocopied inserts containing lists of other releases, contact addresses and so on. Every record should come with at least one insert, I think.
*Of course, it was the popularity of this late-80s indie music that turned me into the obsessive that I am now. So it had its purpose. Hah!