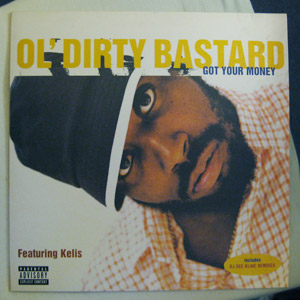 Occasionally I'll hear some piece of music from the mainstream that totally sticks in my head and obsesses me to the point where I ultimately end up in HMV buying it whilst trying to maintain an air of independent coolness that will convince the person behind the till that although I'm buying something that's been bought by thousands and millions of kids who just don't know music, I'm still somehow better and more knowledgeable and more hip than any old casual purchaser. Hah! Deal with that long sentence.
This record is such a case – okay, so it might not be from the complete MOR pop mainstream, but it got what I believe is known as 'heavy rotation' on major radio stations upon its release. Those major radio stations were the ones that polluted my ears during my working days at the time, and this song was a huge relief amongst the relentless crap every time it came on. Ol' Dirty Bastard's voice is so ugly, so rough, I love it – and I love the fact that such a dirty and sleazy song as this was all over Radio One for a time (even if they did have to refer to the artist as just ODB in order to fend off the inevitable flood of complaints)…
By the way – Ol' Dirty Bastard; RIP. He seemed to live life to the full (to put it mildly).
My Wu-Tang Clan anecdote: I saw Raekwon and pals performing at an All Tomorrow's Parties festival a couple of years ago, and a few memories stay with me:
The total rip-off they got away with by playing snippets of Wu-Tang faves for a minute or so before playing out a huge gunshot sound, shouting at the crowd for a bit and then moving on to the next track. Then ultimately descending into nothing more than a sales drive for Wu-Tang t-shirts from the stage.
How inappropriate the sleazy, dirty hip-hop of Wu-Tang seemed to be when played out to a room full of pasty-faced indie kids (in which group I consider myself firmly a member). The intense embarrassment of seeing flower-skirted indie girls attempting to shake their booty when invited up on stage.
A brief, drunken conversation with a couple of Wu-Tang entourage who were stalking through the crowd during the performance, selling mix CDs. I purchased a couple, and attempted a manly slap on the back whilst informing the guys that they were 'great sallesshmen'. What did I expect to be the outcome of this lame performance? That I would get invited to hang out with the group? That I'd become an honorary Wu-Tang? Alcohol makes you do funny things.