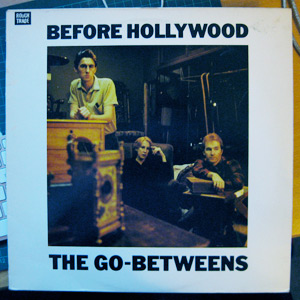 Item number one, inspired by the selection of this record
2345. As I fired up the random number generator to select a record for this post, I noticed that the number of records in the list of possibilities now stands at 2,345. That number must surely have some kind of numerological, Kabbalistic meaning? I bet it represents travel, or progression, or something along those lines. Regardless, it's a very satisying number to type: 2345. Get to a keyboard and try it.
Item number two, inspired by the label that released this record
I'm constantly, overwhelmingly impressed and in awe of the selection of bands that Rough Trade Records have released. Look at this quickly-compiled list of a few of them:
Cabaret Voltaire
Subway Sect
The Raincoats
The Pop Group
Robert Wyatt
The Slits
The Fall
Wire
The Pastels
The Smiths
Galaxie 500
…and that's just a handful Any label would (or should) have been proud to release one record by one of those artists. But here's a label that released many by them all, alongside many more. I don't know why this is impressive – it's just pressing records, it's just shifting product, ultimately – but it is impressive. It speaks of a long-term sense of quality and class that should be an inspiration to all record labels.
Item number three, inspired by the players on this record
Lindy Morrison (drums, backing vocals) once stood as the candidate for the Australian Democrats party in New South Wales.
Grant McLennan (bass, guitars, vocals) very sadly passed away in 2006. More than 1,000 people attended his funeral.
Robert Forster (guitar, vocals) has appeared in a large number of Hollywood movies, including Mulholland Dr., Jackie Brown and the remake of Psycho.
Item number four, inspired by the cover of this record
Band photographs are a funny thing, aren't they? It's always difficult to find a photograph that sums up both a band's collective personality along with that of its individuals; let alone their music. This record's cover photograph, by Tom Sheehan (who has also shot a massive number of other artists – look him up), does a pretty good job. It's informal yet strangely confrontational and distracted. The band members look deep in their own thoughts, but are drawn together by the colours of the composition. There is what looks like a blurred clock at the front of the image; what does it mean?