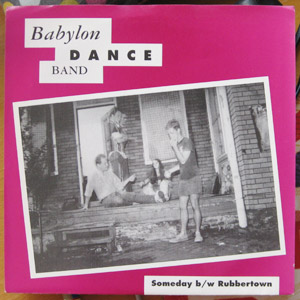 I've mentioned before the pile of American indie 7″ singles that I once bought from eBay (both here and here), and this is another from that batch.
Now, I have no idea whatsoever who Babylon Dance Band are, or how they fit into any kind of lineage of music. I'd never heard of them before receiving that pile of records in the mail, and I've never heard of them since. Let's look at the evidence available on the back of this record's sleeve, and a bit of internet research, to try and piece together some information:
So there you have it – isn't the internet clever? From this record by a previously unknown (to me) band, I've now glimpsed into the world of Babylon Dance Band, who it seems were big cheeses in the Louisville punk/hardcore scene, and who have pleasingly continued to live and contribute to that city and the state of Kentucky. What's more, I'm now aware of louisvillehardcore.com, and its fantastic 'History' section, which is an exhaustingly comprehensive guide to a city's musical heritage – and remember, Louisville was the birthplace of some cool bands like Slint and The For Carnation.