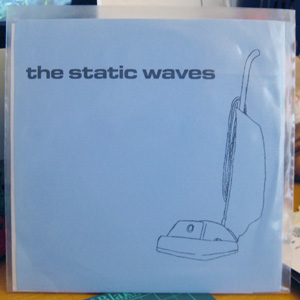 The Static Waves were a fuzzy indie-pop-noise kinda band from the mid-nineties*, a member of which I was in touch with via the fanzine/mail scene of the time. As far as I remember, I'd had a couple of their demo tapes and then I was very pleased to hear they'd decided to release their own debut single, 'Wear The Suit'. As is often the case with self-released records, the purist in me would suggest that the band made a few rookie errors by missing out on a few details:
The wraparound sleeve opens left-to-right, rather than right-to-left. Now, it may just be me who finds this irksome, so I'm prepared to let this one go.
Sound Of New York records was the band's own label (and that's to be admired), but they neglected to give this record a catalogue number. Shock! How can it be catalogued without a catalogue number?! The runout groove doesn't help, it merely shows the pressing plant's ID for the record – AH 24388, if you're interested. However, if I remember rightly, the band may have been from York (in the UK), which would make Sound Of New York records a pleasingly witty label name.
No release date is shown anywhere on the sleeve or the record itself. This is a popular oversight in my experience, but that doesn't make it a good one, people. Look to the future! All I can now say is that this record was released 'in the mid-nineties' – not exactly watertight historical accuracy, is it?
What, no inserts? I always find it a shame when a band's released their own product and neglected to stuff it full of all kind of free bits and pieces of ephemera. Photocopies are cheap and everybody has a pair of scissors somewhere. Live the dream! Add some inserts!
These tongue-in-cheek points aside, excellent work The Static Waves; more bands should release their own records. I guess back when this came out there was pretty much no internet as we know it today, so releasing stuff had to take the form of physical products. Bands are releasing their own records ten-a-penny right now, they're just coming out in the form of downloads and fancy technological jiggery-pokery.
Can't beat a good real record, though.
*Oh, and it seems that the band were still going until 2006!