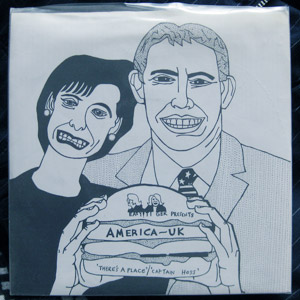 1997, the year of Tony Blair's Labour Party victory in the general election… and the year of release of this single. Some kind of political statement is being made, perhaps, with the cover art (unless it's just a sly interpretation of the artist's name). Tony and Cherie, eating a tasty burger, Tony wearing a tie patterned with the American flag. On the back, Bill and Hillary Clinton, Bill sporting a Union Jack bowtie, Hillary with a half-drunk pint of bitter. What does it mean? Something, I'm sure. The cross-pollination of ideas between the UK and the USA, or something more cynical. Who knows?
I know who knows. The guy that did the cover art. That guy is, in fact, also the guy that released this record. I think his name was Jon, but at this point, honestly I can't remember. Let's just assume that Jon was (and indeed is) his name. I met Jon at a fanzine convention that was part of the 1997 Sound City event that took place in Oxford. I lived in Reading at the time, and met up with a fellow fanzine writer named Kim to visit the convention. Jon was a nice fellow, we had a good chat, and I was very impressed by his illustrations – as I recall, this record wasn't out at the time, but he had available a selection of his fanzines that all sported examples of his fine illustrative (and typographic) style.
At the time, I was running my fanzine Circle Sky and asked Jon if he'd contribute some illustrations to a future edition. He agreed. Good stuff. Now, remember, this was pre-internet for the most part, and in hindsight I'm pleased and impressed that it led to a postal 'conversation' that ended up with my receiving two excellent original ink-on-paper illustrations of Primal Scream and Mogwai, to go with articles on those bands that I was running in the fanzine. I still have them somewhere. I should dig them out.
Useful information: Now, at the time of writing, it's obviously not pre-internet, so I can link to this. It's diskant's 'Mogwai Artzine' from 1998, to which Jon – as I can now confirm his name to be – contributed a (different) Mogwai illustration. You can see it here. It's good, isn't it? I also contributed to the Artzine, as did several other people – some of whom I still know, some of whom I don't. It's nice that stuff like this got put together and published, I think.