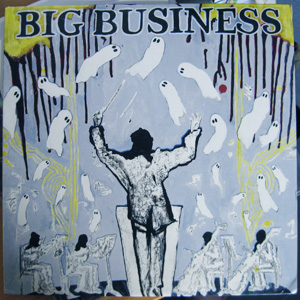 As I ran my finger along the spines of records on my shelves, trying to find this one to pull out and photograph, I noticed that Big Business – Head For The Shallow on the album's spine is in bold, chunky, capitalised and unmissable text. And there's your analogy for this band.
I saw Big Business play live as a two-piece at an All Tomorrow's Parties festival at Pontins in Camber Sands, some years ago. They were fantastic: heavy, riffy, funny, goofy and captivating. At the time, I wasn't particularly aware of the work of Melvins, who I then saw at a similar event – albeit one at the somewhat posher Butlins in Minehad – a couple of years later. By that time, Melvins had integrated the two Big Business folk into their line-up, resulting in a mind-blowingly outstanding set of musicians who tore through one of the finest live performances I've ever seen. This line-up had two drummers, and multiple drummers are something I always enjoy watching – the interplay between them, the reflected silhouettes of their drumming arms as they collectively weave rhythms.
But back to Big Business. Apparently one of them used to be in Karp, a band who are currently on my 'why have I never heard them – everybody keeps telling me that they are legendarily brilliant' list. I'll get around to them, one day… if they're even half as good as either Big Business or Melvins, they'll be worth the investigative time.
Watch this video and join me in slack-jawed, wide-eyed amazement:
[youtube=http://www.youtube.com/watch?v=FpuhGz9qGEo]