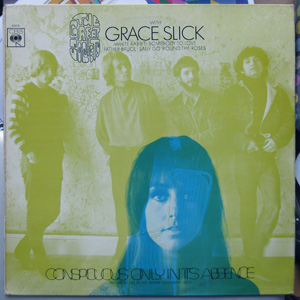 Grace Slick would, of course, become more famous as the lead singer with Jefferson Airplane, but The Great Society is the band that came before, which featured other Slicks. There was Grace's then husband Jerry Slick on drums, and Jerry's brother Darby on guitar. A veritable slick of Slicks, indeed. Some Great Society songs came with Grace as she moved from them to the Jefferson Airplane – not least 'White Rabbit' and 'Somebody To Love'.
Jefferson Airplane would, of course, lead to Jefferson Starship, who led to Starship, who – as we all know – built this city on rock and roll. I feel compelled to present the true awfulness of the video for that song:
[youtube=http://www.youtube.com/watch?v=nsdj9NRzqC4]
Get over the shudders induced by that 'orrible mess by reminding yourself of how cool Grace Slick was, when she was fronting the Great Society and Jefferson Airplane. The band are looking good on the cover of this record, in spite of the cover designer's strange idea to overlay a photograph of a wicker chair on Grace's face. I'm not sure why that was thought to be a good visual effect. But hey, the 1960s were a crazy time. It's a lovely colour scheme on the sleeve, nonetheless.
I have three tapes somewhere which are all packed full of brilliant 1960s psychedelia and garage tunes. They've entertained me for over a decade now, at least. I think I may have mentioned them before here. Slowly but surely, I'm picking up the original releases of a lot of those tunes. 'Somebody To Love' by The Great Society is on one of those tapes – albeit not in the live version to be found on this album – and for years I always listened to it and thought "what a great cover of the Jefferson Airplane song… so close to the original in the vocal style… who are these Great Society pretenders, anyhow?" I guess there are always new facts to learn as way make our way through our musical lives.