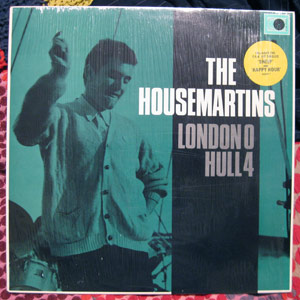 Not a huge amount to say about this record musically – to me it represents a very mainstream and slick side to the whole C86/indie-pop scene that was flourishing at the time of its release. Songs like 'Happy Hour' are super-jaunty and great fun, of course, but the more 'deep' tunes like 'Think For A Minute' unfortunately raises the terrifying spectre of The Beautiful South and their crushingly-MOR schmaltz. I don't want my indie-pop to have a sense of social responsibility or seriousness! I want songs about flowers and/or love, either unrequited or otherwise!
It is fun seeing Norman Cook pictured on the back of the sleeve, though, in his pre-ecstasy-fuelled raves-on-Brighton-beach days.
My sister used to get the weekly pop magazine Smash Hits around the time of this record coming out, and I'm sure that The Housemartins featured pretty heavily. In fact, as memory serves a lot of bands were featured that would, I imagine, be deemed outside of the readership/demographic of such a magazine these days. I remember reading about Talulah Gosh in Smash Hits – only after one or two of their singles had been released, and recall with fondness a daft interview with Jesus & Mary Chain that asked them utterly banal questions about their favourite crisps, and so on. I didn't realise it at the time, but Smash Hits was a great magazine. The only aspect of it I didn't quiet understand was the need to take up around eight pages per issue printing the lyrics of pop hits of the day.
London 0 Hull 4 is, according to the rear sleeve, 'engineered by Bodger'. I wonder what Bodger's up to now?