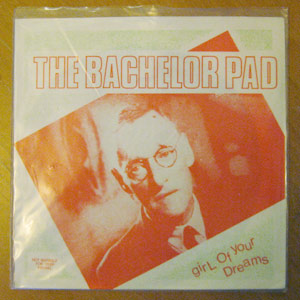 I've called this a 7″ in the title up there, but the flexi itself isn't actually seven inches in diameter like a 'real' seven-inch single – it's slightly smaller, perhaps 6″ in diameter? I've refrained from calling it a 6″ though, despite having such a category set up on here, because it's packaged in a typical wraparound sleeve, the likes of which would house a seven inch single. So that makes sense, eh? My categorisation and pigeonholing technique is unstoppable!
I have several of the Sha-la-la flexis, but none were bought at the time of release and so none come with whatever fanzines they were bundled with. As far as I know, they weren't each bundled with a specific fanzine – what tended to be the case is that, say, 1,000 flexis were produced, and then batches given to a variety of fanzine folks to give away with their wares. (Indeed, back in my fanzine-writing days, several times I was pleasantly surprised by receiving in the post a batch of unexpected flexis and records, with the instruction to help spread the word by giving them away!)
Sha-la-la was, of course, a precursor to Sarah Records, and indeed many of the bands that appeared on Sha-la-la flexis went on to also release records on Sarah. In the case of this one, though, neither The Bachelor Pad or Baby Lemonade did so. Sha-la-la flexis gave one side each of their wraparound sleeves over to the two bands they featured; the image above shows The Bachelor Pad's side, with Wilfrid Brambell pictured, he of course of Steptoe And Son and A Hard Day's Night fame. The Baby Lemonade side is a far more typical indie-pop-wraparound-sleeve kind of image – it shows a Warhol-style repetitive image of a toy ray gun, printed in basic two-colour style.
Let's use the magic of Google to find out an interesting fact about these two bands.
Searching for "the bachelor pad band" yields an interesting interview with the band, carried out by the Cloudberry Cake Proselytism website/fanzine, that describes some of the fanzine/music scene they were involved in at the time of this record (and before), including reference to the legendary Splash One club in Glasgow run in the early-to-mid 1980s by Bobby Gillespie of Primal Scream and Jesus & Mary Chain. It also turns up this great promo video for The Bachelor Pad's 'Country Pancake':
[youtube=http://www.youtube.com/watch?v=cJ0lWp8zJv8]
Lovely!
"baby lemonade band" – the 'band' bit is required to sidestep a whole load of Syd Barrett-related results coming up – initially led me to the website of a different Baby Lemonade (this one) and, well, not much else. Anybody got interesting links and factoids to do with Baby Lemonade?