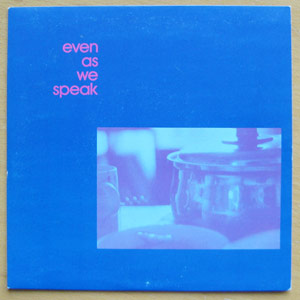 Australian band Even As We Speak were an ambitious lot, in the context of the often-lazy, often-detail-rather-than-big-picture world of indie-pop. This EP, for example, plays at 33 1/3 rpm rather than the usual (for Sarah Records, at least) 45 rpm – yet it still only contains one song per side. What does that mean? Why, that Even As We Speak were a veritable prog-rock behemoth of a band – comparatively speaking. These two songs are pretty long, pretty inventive, and include forays off in various directions (including pseudo-New Order style electronic tinges), turning them into tiny epics rather than mere simple tunes.
It was all leading up to their later Sarah album, Feral Pop Frenzy, which was – at the time, and possibly even now – outstandingly ambitious. It had seventeen songs, ran (I think) for over an hour, and was a proper 'journey' of an album, and one that even hinted at Concept Album status, with melodic references popping up from song to song.
At their heart, and in their overall sound, Even As We Speak were proud indie-pop badgewearers. I do remember thinking around the time of their releases, though, that they were somehow different – one of several bands at the time that hinted that whilst indie-pop, as we all know, don't stop, there's no reason why it can't be experimented with and pulled in different directions. How grown up!
The photograph of saucepans on the Factory Records-design-style cover is credited as 'Yukino's Saucepans, by Akiko'. I wonder if that was Akiko who ran Sugarfrost Records at around the same time…?
I did a quick search on eBay for 'feral pop frenzy' and there's a vinyl copy for sale at £29.99. I won't link to it, in case the auction has ended by now, but I will link to the seller – Oscar The Cat's Records – who is worth mentioning as they include within their product photographs a cat, presumably Oscar.