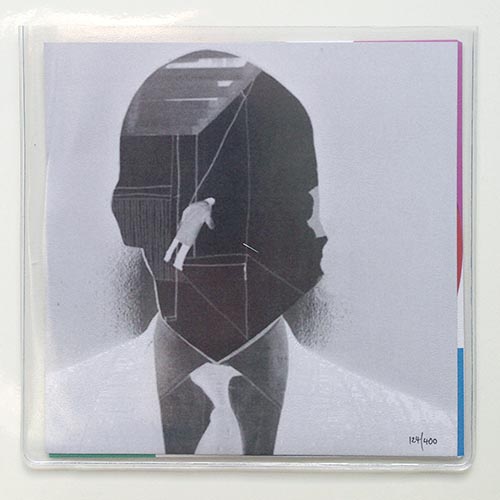 There's rather an air of mystery surrounding many aspects of this split 7″ single, pressed on white vinyl. Karen Novotny X is not an individual but a band; they take the A side and spin at 33 rpm. According to the notes on this record's insert, their track was recorded in East London between winter 1979 and spring 1980 – whether this is actually true is another matter. This and their other releases are all quite recent, and the internet yields nothing that helps to position Karen Novotny X as anything other than a recent band. Unless a couple of different record labels have conspired to release archive recordings at around the same time; and unless nobody had heard of and written about this band before very recently; and unless somebody has taken it upon themselves to run a Facebook page for them which to all intents and purposes looks to be full of the things a currently-active band might share to promote themselves, well, I posit that they're a band of The Now. Regardless, 'Join Hands' is nice, a kind of John-Carpenter-at-a-slow-disco tune that suggests a love of analogue synthesisers and spooky minimal electronica of the late 1970s.
Such aural pleasures are somewhat shared with 'Near 86th' by Samantha Glass, which occupies the 45 rpm B side of this record. Now, Samantha Glass isn't exactly a person as such; it's a pseudonym, alter ego or alternative name of somebody named Beau Deveraux, who has released cassettes and things through Deep Distance as well as other labels like Not Not Fun. The preferred jam of Glass/Deveraux is a smooth kind of hypnagogic-pop-it's-okay-to-like – 1980s-tinged but more in terms of world-of-wonder electronic repetition than bombastic, hyper-compressed vocal tunes.
Deep Distance releases tend to come in stock label sleeves*, and this one is no different, although this is augmented by a hand-numbered insert, one side of which makes for a very mysterious mono cover image. As with many of the label's releases, the artwork was put together by Dom Martin who runs both Deep Distance and sister label The Great Pop Supplement. The collage art used on the insert is by Ingrid Christie – this one, I think – a fine art graduate from the University of Central Lancashire who also completed two years of a science degree, including a 100% grade in mathematics. Apparently. Science + Art = Spooky Record Sleeves, it would seem.
Links: Karen Novotny X / Samantha Glass / Deep Distance