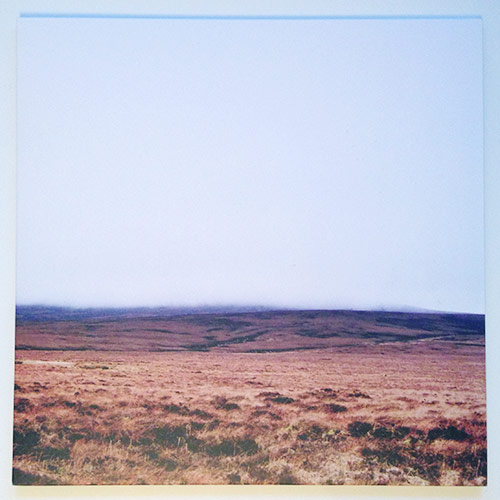 MIE is a UK record label with a pretty impressive back catalogue of releases. Their early releases tended toward exquisite packaging, with no end of hand-stitched, screenprinted and hand-assembled artwork being on offer. More recently they've toned down the (labour-intensive) hand-finished stuff, but retain an eye for a good-looking sleeve.
This record is a 12″ in the classic sense – it plays at 45 rpm and has a track on each side. No 33 rpm is-it-really-so-long-that-I-should-call-it-an-album-even-though-it-only-has-a-couple-of-tracks worry, but also no wasted space: the tracks are good and long. The aptly-named Desert Heat recall the almost freeform, improvisational, psychedelic guitar work of (often Californian) bands from the very late 1960s and early 1970s; the music here is almost like two (vocal-free) slices of infinite groovy soloing, with an overall sense of wasted, sun-baked, heavy-lidded reflective joy. The band are actually from Dublin, but they pull this stuff off better than you might think for residents of an often rainy country. As a description on the MIE website has it: "Semi-improvised yet impossibly tight, Desert Heat can only embody the flickering mirage on the open road under the fading heat of the evening sun."
The slightly textured card of the record sleeve is apt for the dusty music, but there's pleasure to be had in the fact that the inside of the sleeve is smooth – it makes it easier to slide the inner sleeve, also printed on good heavy stock – in and out. Thumbs up. The photographs on the sleeves, and handwritten lettering on the record's back, inner sleeve and labels, are credited to band member Cian Nugent (no relation to Ted Nugent, I presume); the credits also thank non-band member Richard Proffitt for 'objects' – meaning, I think, the odd sculptural collection of found objects pictured on the rear sleeve. Overall layout is credited to Conor Lumsden, a Dublin-based graphic designer and musician, according to Twitter. There's no release date mentioned on the record, but I think that this came out in 2013.
Links: MIE
(And, for fun, here are the Desert Heat that did not make this record – but, instead, "one of Country's hottest acts. Catchy melodies, passionate vocals, wailing guitars, a driving back-beat…")
Update 23/01/14: A snippet of info via Twitter from Henry, the kind fellow behind MIE: "[the record] was released mid-13 and the band are 1/3 Irish and 2/3 US!"