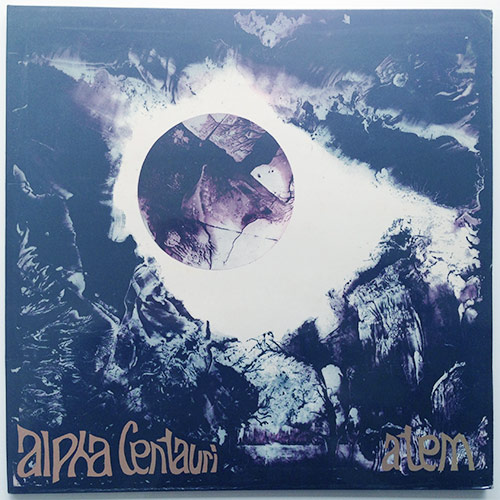 Record companies love to repackage and resell existing product, but in the case of this double album – which compiles a couple of Tangerine Dream's early releases (Alpha Centauri was originally out in 1971, Atem in 1973) – I don't have a problem with it. It's a convenient way for me to hear a couple of albums that I haven't heard before, and the artwork and gatefold sleeve is most pleasing.
Anyway, it's kind of a moot point, as I was only around three years of age when this record came out, and wasn't even alive when the two albums were originally released. So it's not as if I was compelled to complete a collection by buying multiple formats. That said, I'm pretty sure that if I happen across either Alpha Centauri or Atem in their original single-album releases, I'm likely to buy them. Such is the mindset of a collector.
I bought this record very recently, as part of a small haul of stuff found at a Sue Ryder sale. You see, the charity Sue Ryder has its headquarters quite near to where I live, and they regularly hold large-scale sales of the kind of thing that hasn't yet made it into any of their charity shops. This includes a room full of records, and from time to time there are some gems to be had.
As it's a new purchase, I've only yet listened to Alpha Centauri, and haven't moved beyond it as it's so good. It sounds like the more abstract, bits-between-the-bits sections of early 1970s Pink Floyd, stretched out to cosmic extremes and played using early synthesiser technology that provides rich, affecting soundspaces. I'm not sure whether the Tangerine Dream personnel were reeling from the influence of gargantuan amounts of hallucinogenic substances, or if they were floating in a drug-free new-age appreciation of space and emotion – or perhaps both? Whatever they were up to, they created some deep music here – and, as the liner notes say within the gatefold: "This album is dedicated to all people who feel obliged to space". Gotta love the early-to-mid 1970s.
The double album's gatefold sleeve shows the Alpha Centauri artwork on the front, and the Atem artwork on the back. However, both have been augmented with the other's title, included in a way that's artfully and nicely executed. Inside the gatefold, there's a glorious photograph of a dark, shimmering landscape, right out of the journey-through-space-and-time segment of 2001: A Space Odyssey. Both the Alpha Centauri and the Atem artwork is credited to Monique and Edgar Froese: Froese is a member of the band; Monique is his wife. As they were married in 1974, this means that they collaborated on the artwork before marriage. Maybe the art brought them closer together? Who knows. Very sadly, Monique died in 2000. Froese, and Tangerine Dream, continue to make art and music.
Link: Tangerine Dream