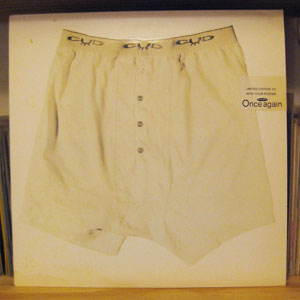 I used to bleedin' love Cud between the years of around 1990-1994. They were one of the first bands that saw me diligently buying every single release they put out, whilst constantly scouring record shops for their earlier work. Remember those days before eBay when it actually took some time and effort to build up a record collection?
This 12″ is from their A&M days, after they'd bizarrely hit the big time – or, well, the small time, at least. 'Bizarrely' because they were always a bit of a weird outsider band, and just seemingly not normal enough to really make it, despite some superb songs and a brilliant (if deranged) frontman. Gone were their limited releases on Imaginary Records, distributed in hard-to-find places – these were their days of national press, big tours, and what seemed like endless marketing money to spend on freebies and gimmicks. This record, for example, comes with a free poster, which is a pretty straightforward trick – but other A&M Cud releases came with, off the top of my head, a set of commemorative stamps; a three-dimensional cardboard house; and some kind of cut-out-the-eyeholes face mask. Then, as so often happens when the industry steps in to 'help,' they were gone as quickly as they were famous.
A friend of mine played a gig recently with the now-reformed Cud, and said it was a mix of nostalgia and pain – nostalgia at the obvious thrill of seeing a great old band playing some great old songs; pain at it being fifteen years later with no apparent forward movement from the band and, most awkwardly, the fans. The fans aren't the young blades they once were any more; it's all 'a night off from the kids' nowadays and an excuse to work on an already-expanded beer gut. (Not in my case of course; I don't have kids).
Here's a true fact: I once met William Potter from Cud at a comics convention in London – he was at the event representing his cartooning as part of the Deadline magazine team. He drew me a picture. That same day I also got pictures from Jamie Hewlett (you know, the guy that did Tank Girl and then Gorillaz), Raymond Briggs (you know, the guy that did The Snowman and When The Wind Blows) and Dave Gibson (you know, the guy that did Watchmen). I was in awe of these meetings back then, and in fact am still now…