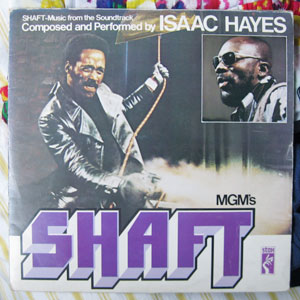 Isn't Isaac Hayes cool? Look at him up there in the top right hand corner, he's all untouchable hipster, shades, slaphead and all. Was it him that did the album called (I think) Hot Buttered Soul or something like that, with a cover depicting nothing but an extreme close up of his bald bonce? If you've got it, flaunt it, I guess…
I've still never seen Shaft in full, or indeed any other of the famed 'blaxploitation' pictures of the '70s. Are they actually any good, and worth seeing? You'd think that I was some kind of major fan though, as I own not only this official soundtrack, but also the eponymous theme tune on a 7″, as well as an album consisting of a complete cover version of the soundtrack by the gloriously-named Soul Mann and the Brothers. This is what happens when you scour charity shops for music over years and years and years. Owning multiple copies of essentially the same thing seems perfectly rational when they're just 50p or a quid a pop.
Opening up the gatefold sleeve I've actually just answered my question above re: Hot Buttered Soul. Yes, it was Isaac Hayes, and that artwork is pictured here alongside that of some of his other works including the marvellously-named Black Moses. What a time for empowerment, for confidence, for rights and for music!