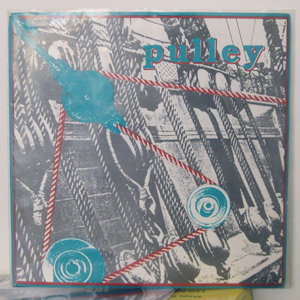 A wee slab of indie rock history here, kind of… Simple Machines were an inspirational label in their early nineties heyday, pulling together underground music strands and sharing the love with unending positivity. And, at the same time, releasing countless brilliant discs featuring all kinds of bands that are now varying degrees of legendary.
Pulley is one of the original set of 'Simple Machines' 7″ compilations – Pulley, Wheel, etc – Simple Machines, you get it? It features Bricks, My New Boyfriend, Nation Of Ulysses and The Mommyheads. It's pressed on vivid clear red wax. It comes with a fold-out poster and insert in its fold-out sleeve. It ticks all of the necessary indie rock/DIY boxes. What's fascinating is reading through the inserts that come with these releases – Simple Machines not only released records, but they helped to distribute the releases of others. So back in '91, on the back of this record, I could've also bought Bikini Kill's first tape, the first Lungfish album, a compilation covering the Washington DC scene, a Tear Jerks tape, and a whole ton more. I wish I had've done.
I liked how Simple Machines also tried to open up the mechanics and logistics of running a record label – in their inserts they'd provide full details of how and where they got stuff pressed, where inserts were printed, and give tips on how to start and maintain your own label. As the insert here states, "The revolution begins within each of us…" Perhaps the influence of labels like this is bigger than people realise. Would today's underground music scene be what it is if it weren't for these pioneers? Or does the revolution still continue to take shape?