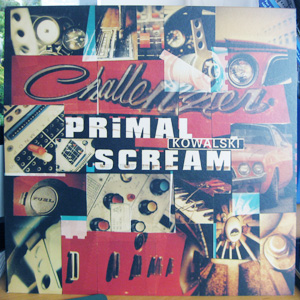 This came out in 1997 – really? – thirteen years ago! Wow. It genuinely doesn't seem that long ago. For me, 'Kowalski' and the Vanishing Point album from which it was taken are pretty much the high point in what's been an amazingly long career for Primal Scream. At this stage, they were at the apex of messed-up coolness, and injecting a lot of weird, experimental stuff into what remained some very accessible music.
This record is dedicated by the band to Cleavon J Little, the guy who played Super Soul in the Vanishing Point movie which Primal Scream were obsessing about around the time of these records coming out. Super Soul was the hypercool blind DJ who guided, via radio, the lead character Kowalski as he drove across parts of America. As I remember it, Vanishing Point the movie doesn't really stand up to repeated views – it gets kind of boring – and I prefer Blazing Saddles, Cleavon J Little's other most well-known role. I like the idea of an alternate past where Primal Scream get obsessed with that movie, instead, and release records based around the idea of eating beans and acting like idiots. "Willkommen. Bienvenue. Welcome. C'mon in…"
Around the time of these records coming out, or shortly after, I saw Primal Screaam play at Brixton Academy. It was outstanding. Asian Dub Foundation supported, and did a largely instruments/backing track-free set that didn't kick off until around midnight. Primal Scream, as they say, 'tore the roof off,' with a set that featured My Bloody Valentine's Kevin Shields on guitar, along with guests including Depeche Mode's Dave Gahan and (I think) Paul Simonon of The Clash. They were playing a lot of stuff that would later form the Xtrmntr album. It was a late night, and it was busy, and I got separated from the friends with whom I'd gone to the gig. Leaving the venue at around 3.30 am or so, worse for wear, I decided to wander the Brixton streets to find a taxi, before hopping into an unmarked car and drunkenly guiding it back to where I was staying in London. My friends weren't there, and didn't return for a couple of hours, during which time I slept peacefully on their front steps. Looking back, there's many reasons why I shouldn't really have survived that evening without more incidents or injuries. Luck was on my side.
Here's the Vanishing Point trailer, for some fun:
[youtube=http://www.youtube.com/watch?v=pA4ymmXa8rs]