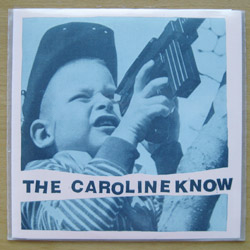 This is one of a little batch of records that my Dad once bought for me. He was away on a trip in America – I forget where, New York perhaps? – and decided that I might like some records as a holiday gift. This was a most wise decision! Enterprisingly, he made his way to a record shop and asked the owner to recommend a few records based on some facts about what I was into at the time: I liked indie-pop, I liked seven inch singles, and I seemed to like those records with wraparound sleeves that came in plastic bags. The shop owner picked out around five new releases that fitted the bill and, well, it was a great gift to receive!
I know next to nothing about The Caroline Know. Based on some information gleaned from the sleeve and insert that comes with the record, let's fire up the ol' internet to see what we can find out:
I've quite a few records on the Bus Stop label, and they're one of the labels that I'd like to gradually collect everything from. There's a partial discography, and brief introduction to the history of the label, here.