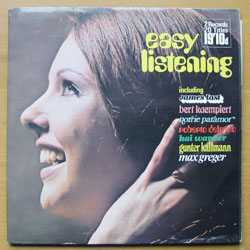 I love the photographs on this sleeve – a happy female music listener on the front, and a happy male music listener on the back. The gatefold sleeve opens up to reveal nothing more than an overview of other Polydor releases that the keen easy listening fan could purchase: "Polydor and easy listening go together", it says. So, that means a variety of releases from easy listening heavy hitters like James Last – including All Aboard! With Cap'n James, whose cover shows James Last in naval gear sporting a cheeky, knowing glance, and Bert Kaempfert, Roberto Delgado and Norrie Paramor.
This double album, then, would seem to serve as a taster for the rich world of easy listening that Polydor had to offer – it's a compilation featuring all of those heavy hitters and more, listed in a gloriously tasteless selection of typefaces on the front cover. It's a great album, too: I purchased it second hand at some point in the early 1990s, when a wave of easy listening nostalgia was sweeping the UK, most obviously in the form of Top 40 hits by Mike Flowers Pops, but also in a huge number of club nights like Smashing, Blow Up and Disques Vogues that were taking place. For a time, everybody seemed to be wearing charity shop clothing and dancing badly to whatever cheesy-yet-brilliant, richly orchestrated records the DJ could find that week. Maximum enjoyment was reserved for those songs that cranked up the Hammond organ swirl, whipping up the crowd into a frenzy of retro excitement.
There's no release date mentioned on this record, but I'd imagine it came out in around 1970 or so. The cover states that this double LP set originally sold for 19'10d. According to this handy 'old money to new money' currency converter, that equates to around £10, if it were being sold today. That's kind of a bargain – over twenty tracks over four sides of vinyl! For a time, this compilation was worth a little bit, as it includes 'Daydream' by The Gunter Kallmann Choir, which was heavily used as the basis for 2004's 'Daydream In Blue' by I, Robot, which was all over the place that year, as memory serves.