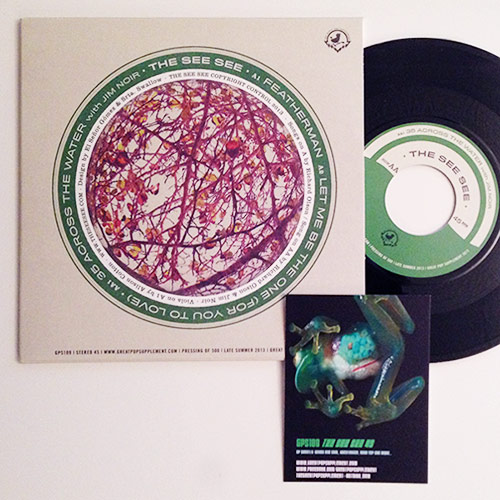 It's been a while since I posted here – I've been sans turntable for a few months now (I know, it was cruel and inhuman) but I'm celebrating seeing in 2014 with a new one, which arrived today. So let's get back to business!
As I'm sure I've mentioned here before, The Great Pop Supplement is one of a few labels whose releases I'm pretty likely to pick up as soon as they come out. Because of this I've got quite a few records by London's The See See, who I imagine are one of the artists released by GPS with the highest count of 'product'. It's lucky that they're good, otherwise I'd have a pile of The See See records getting in my way.
This 7″ comes packaged in a sleeve with a spine, which is always a pleasing thing – nothing wrong with giving such records a bit of bulk and presence; they deserve it. The artwork here – a fish-eye pastoral photograph thang encircled by liner notes – is repeated on both sides, meaning that the sleeve can be held and flipped around with nothing changing. It's the text on the spine that dictates which is the front and which is the back, unless we decide to use the 'other way round' way of reading text on a spine, like they do (for example) in Germany. The sleeve design is by El Señor Gómez & Srta. Swallow, which I was convinced was some kind of in-joke name until a quick Google search turned up their (rather fine) websites here and here.
Musically these are three good songs for a grim, chilly winter day, like it is today. 'Featherman' is a slice of sun-kissed melodic guitar pop with at least one foot in late 1960s California; 'Let Me Be The One (For You To Love)' is a slightly more psych-tinged romp of a song with a wicked descending-note chorus; '35 Across The Water' is halfway between the two – eyes-of-wonderment vocals leading the lyrics around a richly tuneful slice of pop-psych with an oh-heck-now-we're-heading-into-space outro.
Links: The See See / The Great Pop Supplement