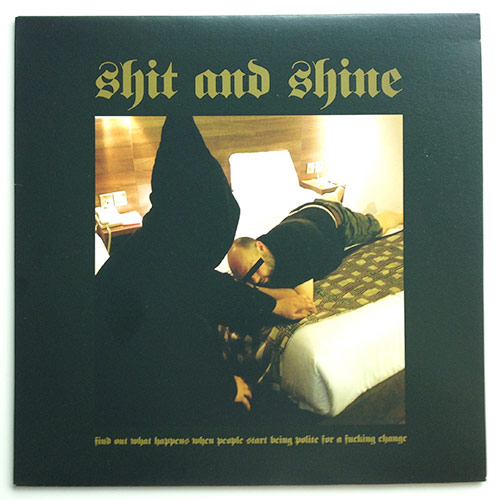 Shit And Shine are an extraordinarily enigmatic, shapeshifting band. It's difficult to tell at any point in their history so far – they've been going for five, ten, twenty, fifty years? – who is in the band, where they are from, who decides what they are going to release (and how), and, vitally, what they're playing at with their music.
I've got a lot of their records, and they skid about from all out atonal noise to guitar-heavy drone pounding to electronic experimentalism. Find Out What Happens When People Start Being Polite For A Fucking Change (a great record title – more on this band's excellent titling skills later) is five tracks of relatively light-sounding rhythmic disco electronica, striated by moments of weirded-out distorted vocals, and saturated in an overall sense of Shit And Shine not being quite right in the collective head. This is in no way a criticism.
I don't know if this record is supposed to spin at 45 or 33 – it sounds good at either speed. The sleeve is as vague and strange as the music – beyond the title and band name it shows nothing except a super-sinister photograph, although the labels include track titles, label name and catalogue number. The record and its artwork is, for a cataloguer and designer like me, equally frustrating and rewarding.
A few years ago I put the band on as part of a music festival that I run, and even though I met several members (who were all genial and accommodating), they maintained an air of mystery and oddness throughout the day. Musically, they were outstanding – multiple drummers packed onto a small stage, and around 45 minutes of relentless repetition and unbearably tense dynamics. It still remains one of the best live sets I've ever witnessed from any band, anywhere.
As mentioned, Shit And Shine have a propensity for brilliant and confrontational record and song titles. To wit:
Toilet Door Tits
The Biggest Cock In Christendom
When Extreme Dogs Go Wrong
Creepy Ballerina
…and so on. Who knows what these titles mean, if anything. I imagine that the band themselves don't even know. Or maybe they do? Maybe it's all part of a very carefully-constructed plan. Enigmatic, see.