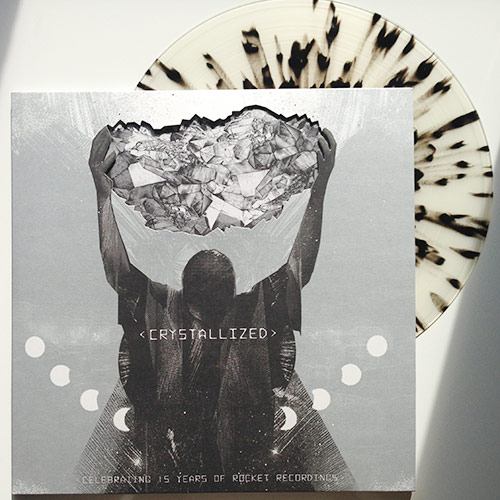 I bought this two-album set very recently, after discovering the outstanding weirdo noise outfit Anthroprophh and taking myself on a Spotify-led journey through various releases and connected bands. After being somewhat blown away by the sounds on this compilation when listening online, I read that the physical release came on spattered clear/black vinyl and featured a die-cut sleeve, and needed no further convincing.
It's a superb collection for anybody that's into out-there sounds, distorted noise rock/Krautrock/space rock or, indeed, experimentalism in all its forms. Rocket Recordings have carved out a niche as a label with high standards of quality control and releases that include rather a who's who of the recent modern (real) psychedelia scene, such as Teeth Of The Sea, Gnod, Shit & Shine, Goat and Anthroprophh (all of whom appear on Crystallized) and White Hills, Oneida and Mugstar.
The vinyl here is a joy to behold: two slices of clear space with smeared black/white spatters emanating from the centre. The artwork, too, is special: credited to Luke Insect (who has worked on a vast range of music packaging that stretches from The Prodigy to Wolf People via Young Knives), it consists of digitally-treated illustrations of intersecting shards of crystal, printed in silvery-grey and black and coming together in the held-aloft centrepiece on the sleeve's front. The shape being held up on the cover is die-cut into the sleeve, meaning that the content of the shape's interior can be changed at will to a selection of images across the two records' inner sleeves. On the rear sleeve, an exact replica of the shape – nice attention to detail there – is printed as a black backdrop to the track listing. It's a great looking artefact.
Anthroprophh, by the way, constantly remind me of the movie Anthropophagous, an unpleasant 1980 horror about "an insane, violent, and grotesque killer that slaughtered the town's former residents". This was one of the films to appear on the infamous 1983 'DPP list' – aka the video nasties list – created by the UK Director of Public Prosecutions as a knee-jerk reaction to the lack of rigid certification of video cassettes at the time. Since then many of the films on the list have been released with varying levels of cuts – a market still remains for avid collectors who seek out 'pre-cert' video cassettes of the original releases. I once collected a few of these, and subsequently gave them away to a local charity shop: visitors to that branch of Oxfam may have got an unexpected surprise while browsing the shelves…
Links: Rocket Recordings