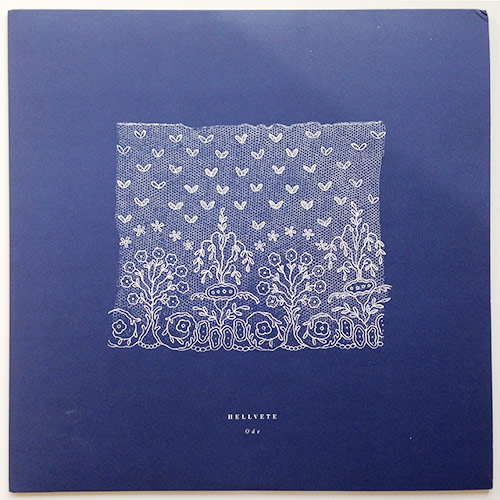 I've mentioned before how I have a few 'go-to' labels that I'll tend to buy all new releases from – ones that have proved themselves enough in terms of consistency and quality to pretty much have me opening my wallet instantly upon receipt of a 'new release' email.
Deep Distance – an offshoot of The Great Pop Supplement – is becoming such a label. The Great Pop Supplement were in this category years ago, with a combination of great music (tending toward the post-rock, 60s-tinged or psychedelia worlds) and nice packaging; Deep Distance follow suit in terms of packaging, but seem to focus on more electronic-based music. (Or, perhaps, less guitar-based).
Hellvete is a new name to me, but according to this have released several things on a variety of labels thus far. It's a one-man project, from the mind of Glen Steenkiste, and Ode is a two-track album, one per side, each consisting of a long, sustained, pure drone. It's not a drone in the sense of Sunn o)))'s brutal rumbling; instead, these two tracks are exultant, bouyant and amazingly uplifting, with rich layers of slowly undulating tone providing endless forward motion. It's a little like the final moments of 2001: A Space Odyssey have been stretched to infinity – constantly approaching a perfect point in sound, yet never quite achieving that impossible aim.
The record is pressed on crystal clear vinyl, which is befitting to the purity of the sounds it contains. No credit is provided for the charming illustrations – or treated photographs – on the front and back cover, which show lacework that places organic scenes into a complex lattice structure.
Links: Deep Distance / Hellvete