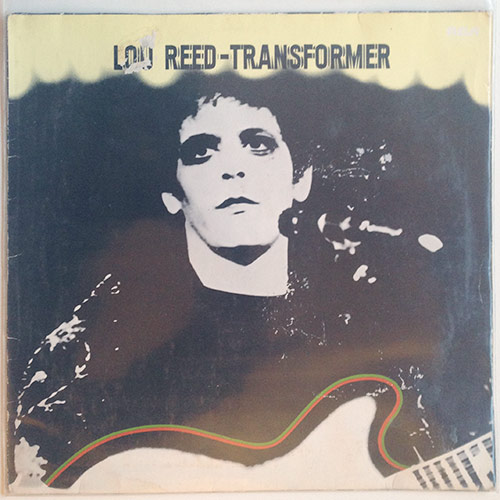 I'm not the biggest fan of Lou Reed, although I was sad when he passed away. I did quite enjoy his notoriously confrontational and prickly persona in interviews – or maybe it wasn't a persona, maybe he just was that grumpy; rock stars should be different to 'norms', through being either unpleasant, or remarkably nice, or out-there in some way. It's just the music – it doesn't really do it for me.
Transformer is a classic album, sure, and it includes the played-to-death-but-let's-not-hold-that-against-Lou-Reed angst/emotion of 'Perfect Day' and 'Satellite Of Love' as well as the swinging slouch of 'Vicious'; I just can't help but compare Reed's solo work – Metal Machine Music notwithstanding – with The Velvet Underground, who are still for me an alarmingly strange and richly listenable band. This happened a lot as the '60s became the '70s – musicians who were once psychotically whacked-out and edgy seemed to dip into a more comfortable glow of success, money, classier drugs and self-reflection.
My copy is a little beaten-up and scraggy around the edges, which seems fitting. I think I picked it up from a charity shop at some point in the past – it's one of those records that's prevalent in such establishments.
It's easy to forget (for me, at least, as I'm capable of forgetting this morning's breakfast) that David Bowie was heavily involved in Transformer – both in a producer capacity and also as a musician, assisting with arrangements and as part of 'The Thunder Thighs', Reed's backing band. That band also included Klaus Voorman (that single 'n' in his name is how it's spelt on the record sleeve), the fellow that illustrated the front of The Beatles' Revolver. Small world, this rock'n'roll world.
Great sleeve on this album – with subtly jarring typography that is at once 'trad' and disjointed; Mick Rock's contrast-up-to-the-max photograph with the album's electricity-themed title echoed in the green and red lines around the guitar. According to the back of the sleeve, art direction on the album was by Ernst Thormahlen; according to <a href="http://www.allmusic.com/artist/ernst-thormahlen-mn0001762310/credits">the internet</a>, he also had a hand in the design of albums by The Velvet Underground, Golden Earring, Steve Harley and Dead Boys.
A footnote: Extracting this record from my shelves made me realise that the R section seems to be – gulp – not in alphabetical order. I must rectify this, forthwith!