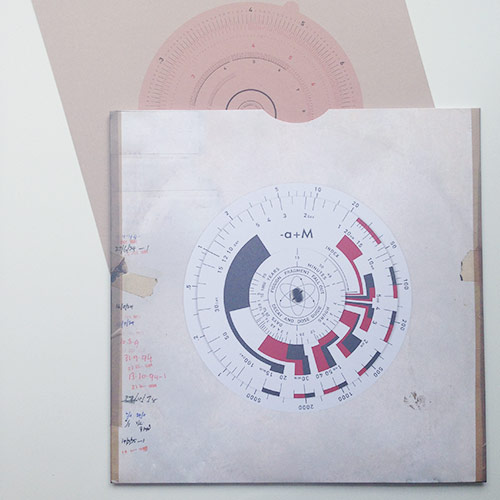 The random number generator that I use to pick a record to write about on here dumped me right at that awkward 'pre-alphabet' part of the list – the place where artist names start with numbers or symbols rather than a common-or-garden letter.
So, the mysteriously-named -a+M, and an equally mysterious record. This and a couple of other things from the Lancashire And Somerset label were, I think, bought at the same time, as I like the label's style and wanted, a little while ago, to get a mini-overview of some of their releases.
I have no idea who -a+M are, the label's website doesn't offer much help, and it's not the kind of name that lends itself to easy Googling. The rear sleeve does suggest that there was once a website at www.minusaplusm.co.uk, which would have been helpful (I hope), but it's no longer in existence (unfortunately).
The record contains eight tracks of mellow acoustic guitar instrumentals, with two guitars weaving their melodies into each other in a way that hints at post-rock complexity and structure, but with a sound that feels more like experimental folk music. It's not unpleasant at all, and it has a sonic clarity that's refreshing and precise.
The artwork is based around a Dials concept led by the record's title: the front and back cover shows cleaned-up and modified graphics of this fallout decay and dose guide: 'The Commander's Radiation Guide', manufactured in the 1960s by a German company called Nestler. It's been altered to include the artist name on the front, and the label name, track titles and catalogue number on the back. A 10″-sized numbered insert (mine is 264 of 300) shows two images of what I presume to be dials that were part of the inner workings of this radiation guide and calculator. It's a really nice-looking artefact, this record; it would be great to see a limited edition of one that was packaged in a real Commander's Radiation Guide, screwed together in the centre and mounted on a packet with date stamps and handwritten notes, as the two-dimensional sleeve suggests may have once existed.
Links: Lancashire And Somerset