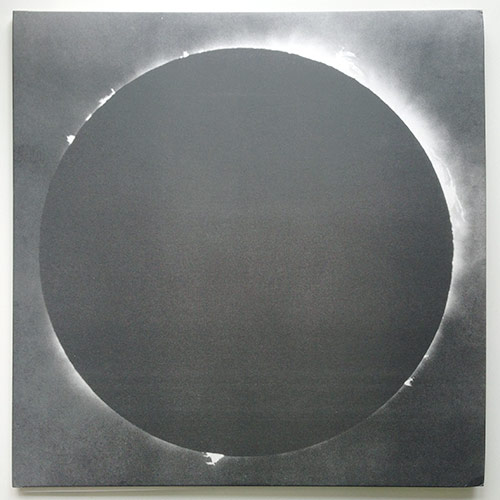 As seems befitting for a release by the "influential, yet reclusive Japanese avant-garde band" Les Rallizes Dénudés, this double album – the first from the band in my collection – provides few hints in its packaging to what it is, who released it, when it was released or what it contains. Indeed, except for a series of stylised Japanese letters on the back cover, the only text is the band and album name on the spine, in incredibly small, widely-spaced letters.
So, I don't know what label this is on – if any – and if it has a catalogue number. I'm not sure when it was released, although it only began to appear in and on a variety of reseller catalogues and websites within the past couple of months. None of these carry any particularly insightful information, but what I can glean is that this three-side set – one of the sides of the clear vinyl double album set is blank, smooth and without music – is that it's a document of a live recording from 1974.
If what Wikipedia says is true (and I think I've heard this from other sources also), the band never released anything official, and all subsequent albums and CDs that have become available are bootlegs, mostly of live recordings. I'm somewhat in awe of the fact that in today's know-everything internet age, a band can still exist with such a shroud of mystery and wonder.
Musically, the recordings here are pretty rough, but unquestionably powerful. Clutching at mainstream straws, there may be a combination of Hendrix, Pink Floyd and Can going on here, but that doesn't really sum up the sonic oddness in this record; more recent acts such as Mainliner, Acid Mothers Temple and Fushitsusha reveal more of a Les Rallizes Dénudés influence perhaps, in an almost wholesale embracing of feedback, and little fear in operating almost entirely outside of conventional musical rules, while retaining a meta-melodic sense of tune that's rather compelling.
The artwork, as mentioned, is sparse, portentous and enigmatic: an eclipse on the front; those Japanese characters on the back; images of solar flares across the inner gatefold; two paper inserts showing images of mysterious chunks of (moon?) rock. Cosmic.
Volcanic Tongue (from where this record was purchased) often say things better than anybody else in their descriptions of records, so I'll end with their description of Electric Pure Land: "When Rallizes generate this kind of insane, form-destroying/higher minded six string euphoria it feels like they are the only group on the planet, taking the sound of the guitar as a conduit for electricity to its ultimate post-psych/noise ends."