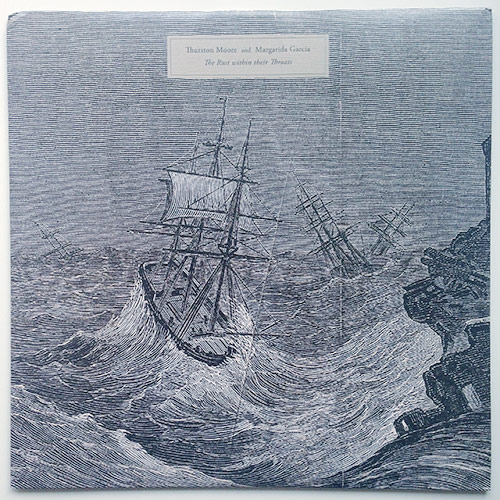 Thurston Moore isn't backwards in coming forwards when it comes to releasing records. As a die-hard Sonic Youth fan, I do what I can to keep up with the ever-expanding circle of music that surrounds both the band and its members' diverse array of side projects and current activities; but it can be a time-consuming, confusing process. Thurston Moore and Lee Ranaldo, particularly, enjoy a seemingly never-ending schedule of record releases, across a range of labels, formats and – for want of a better word – genres.
The Rust Within Their Throats was released earlier this year, and is Moore in 'abstract guitar experiment' mode. In a duo with Margarida Garcia – a Lisbon-based sound artist who has also worked with Chris Corsano, Loren Connors, Alan Licht and many more – his work on this LP takes the form of two side-long pieces. Moore (on electric guitar) and Garcia (on electric double bass) create yawning, claustrophobic caverns of sound, the original instrumentation only partially recognisable beneath hefty waves of echo, feedback and stretched, detuned stringwork. It's at time reminiscent of some of the pieces included in the SYR series of Sonic Youth records, but it feels more confident and focussed.
I became aware of this album while doing something else on the internet – as is so often the case – and it led me to Headlights Recordings, one of countless shadowy experimental record labels that have a lot of product, and that seem to always have existed as something completely outside of any semblance of a mainstream music industry.
The artwork here is not credited to a designer. It includes two black-and-white etchings (source unknown, to me at least), portraying stormy, troubled waters. These are remarkably right for the music on the record, which often sounds like the creaks and cries of a distressed ship, and the typography on the sleeve and the record's label provides a sense of classic maturity, with centred, carefully kerned letters providing information with no small amount of understated elegance.
Links: Thurston Moore / Margarida Garcia / Headlights Recordings