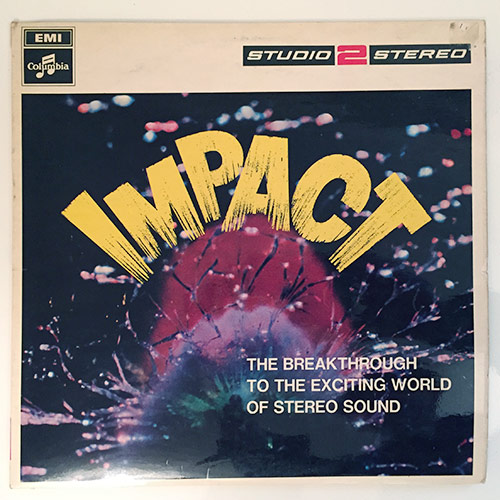 I have quite a number of these 'demonstration'-type records, no end of them were released through the 1960s and 1970s to show off the worlds/galaxies/spectra/etc of new stereophonic (or, in some cases quadraphonic) capabilities of, at the time, modern music-playing equipment. Most of the ones that I own were bought in the 1990s, during a time when I – like many others – influenced by a strange combination of Britpop, kitsch and Stereolab, scoured charity shops for records that might include a glimmer or two of easy listening excitement. The hit rate is generally pretty low with these records, but what they do offer is a tiny glimpse into what may have been spinning on the stereograms of shagpile-carpeted, wooden-panelled 'dens' or listening rooms during a very decadent time in history.
Here's the track listing for Impact: The Breakthrough To The Exciting World Of Stereo Sound. Your call on whether any or all of the below represent a breakthrough, or indeed something exciting:
Side One
David Rose And His Orchestra: 'The Stripper'
Norrie Paramor And His Strings: 'Soul Coaxing'
Mr. Acker Bilk And The Stan Tracey Big Brass: 'Stranger On The Shore'
Pepe Jaramillo And His Latin-American Rhythm: 'Sucu Sucu'
Franck Pourcel And His Orchestra: 'Love Is Blue'
Ron Goodwin And His Orchestra: 'Legend Of The Glass Mountain'
Side Two
Joe Loss And His Orchestra: 'Wheels'
The Norman Newell Orchestra: 'Live For Life'
Basil Henriques And The Waikiki Islanders: 'Can't Take My Eyes Off You'
Ralph Dollimore And His Orchestra: 'The Fool On The Hill'
Manuel And The Music Of The Mountains: 'A Man And A Woman'
Jack Emblow (Accordion): 'Ritual Fire Dance'
It seems that every Joe, Ron and Norman had their own orchestra back in the day. The tracks of note here are Mr. Acker Bilk's swingin', sexy and ever-so-slightly-sleazy 'Stranger On The Shore', the rhumbas and cha-chas of Pepe Jaramillo's 'Sucu Sucu' and Joe Loss' 'Wheels' respectively, and the marvellous Hawaiian gliding melodies of Basil Henrique's reading of 'Can't Take My Eyes Off You'.
The cover artwork bears the familiar, strident logo of Columbia sub-label Studio 2 Stereo, with the dynamic Impact text offset by the bizarrely staid and serious-looking typesetting of 'The Breakthough To The Exciting World Of Stereo Sound'. No design credit is given on the sleeve, but the photograph used – which shows 'glass fracture by shot gun pellets', apparently, although it's quite hard to tell – is courtesy of the Royal Aircraft Establishment, a 'British research establishment' that in time was subsumed into the Ministry of Defence. Friends in high places, these easy listening types!