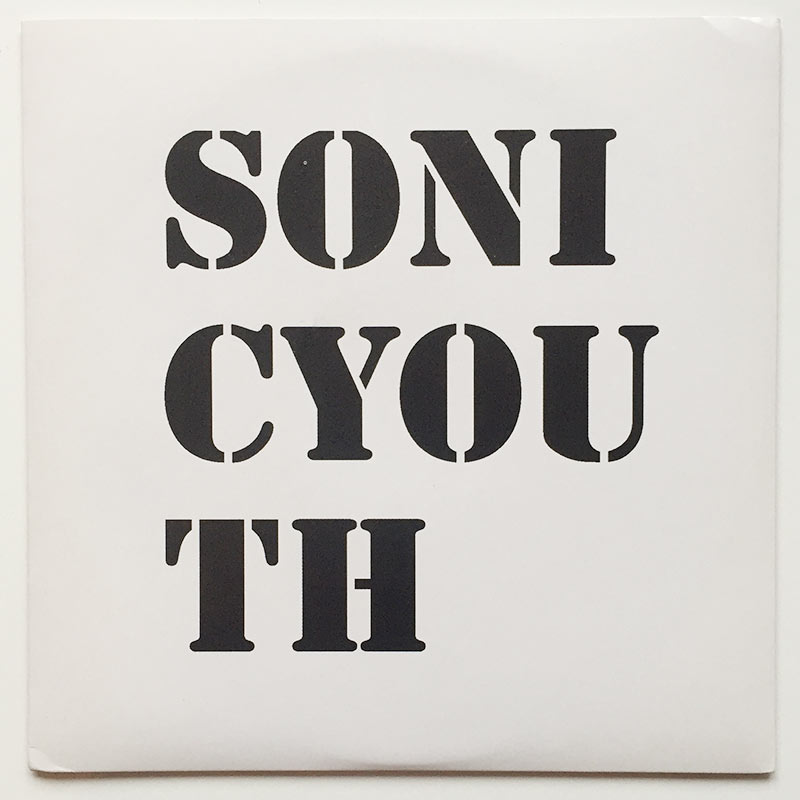 This is the first 7″ record that my random number generator – the website I use to decide which record from my collection to write about – has pointed me towards. That's a little intentional, as until very recent times my 7″ records were in no order whatsoever, and it would've been tricky to track down any specific one. However! I spent a couple of weekend days a little while ago organising them into alphabetical order and, naturally, life now feels much more intentional and relaxed.
This seems to be only the second Sonic Youth record I've written about here, which is somewhat surprising, as their records occupy quite a hefty chunk of my collection overall. Quite an odd record, this one: I think it was released by the band, but I can't remember. It doesn't state a label, or indeed a release date, on either its sleeve, its labels, or the insert included within the sleeve. Discogs tells me it was released in May 2006. I will have almost definitely bought it as soon as it was released, such was my approach to any new Sonic Youth release; I think it was ordered online and delivered mail order.
Not a great deal to say about the sleeve design; the front and back are almost identical, except for in the positioning of the letters. One side has 'SONI / C YO / UTH', the other has 'SONI / CYOU / TH'. Dull stuff. A stencil font (the font is actually called Stencil, as well as being 'a stencil font'), black on white, no nonsense. It's a relatively commonplace design, although not entirely unpleasant.
The insert seems to have been cut to its square shape with a rusty butter knife – it's all rough-edged and crappy-feeling. It shows nothing more than the lyrics for the two songs on the record ('Helen Lundeberg' and 'Eyeliner'), presented in plain old Verdana, black on white, no nonsense.
A weird record, a weird release. So little effort seems to have been put into the physical presentation of these two songs. The songs are fine – latter-period Sonic Youth; i.e. melodic and nothing like as freaked, spaced, or zoned out as in their earlier days.